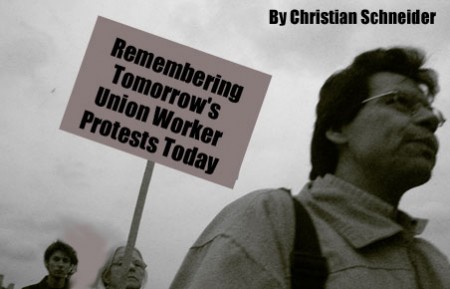 Vladimir Nabokov once wrote of the "stark lucidity of a future recollection." He was describing the act of trying to see things that are happening right now as you will remember having seen them. (Of course, he was writing about one of his characters trying to envision killing his wife so he could have sex with her 12-year old daughter. But go with me here.)
That is how I've vowed to look at this week in Wisconsin state government. I'd love to bottle all the hysteria regarding Governor Scott Walker's proposed budget adjustment bill and bury it in the ground for future generations to one day gaze upon. With protests at the Capitol planned all week, I have taken it upon myself to document much of the government-funded hyperventilating taking place well in advance. (Side note: Are unions really making a case for their modern relevance when they're still holding candlelight vigils? There really hasn't been any new advancement in protesting technology in 40 years?)
Friday, February 11th, 2011 will be a day that lives forever in the annals of Wisconsin Hot Air History. The World Series of Buffoonery took place shortly after Walker announced his plan, when a gathering of Democrat lawmakers took turns out-embarrassing themselves at a hastily called press conference. (Watch it here – but don't drink anything while you're viewing it – your beverage will likely end up adorning your computer screen.)
In this press conference, we heard the seeds of what would become the major themes over the weekend. Assemblyman Joe Parisi – the living answer to the question "can anyone be elected to the state legislature?" – declared that Scott Walker is going to "call in the National Guard on the citizens of Wisconsin!"
Obviously, in Parisi's world, the code words "National Guard" are supposed to give hippies flashbacks to the days of being clubbed and maced. But sadly, Parisi's talking point is mere delusion. At his press conference, Walker mentioned the National Guard was ready to staff, say, the prisons if the correction officers were to engage in an illegal strike. But it didn't stop the internet from being lit up with stories of how Walker was sending the National Guard to your house to tear gas your family.
Parisi finished up by urging not to "go to war" with the people of Wisconsin. By "the people," I assume he doesn't mean the 80% of citizens who agree that government workers should pay into their own pensions. (Actually, I should be nice to Parisi, as his name is on my marriage certificate from his days as Dane County Clerk. I think that gives him the unilateral power to dissolve my marriage.)
Not to be outdone, State Representative Gary Hebl strode to the microphone to call Walker's plan to eliminate public sector collective bargaining on everything except wages "unheard of" and "unprecedented." That's true, assuming you forget the first 100 years of Wisconsin's existence, when there was no collective bargaining for public employees.
Hebl forged on, comparing Walker to Hosni Mubarak, saying we have the "makings of a dictator" here in Wisconsin. (The strongest link between Walker and Mubarak is that Gary Hebl has heard of both of them.) I had cast aside this preposterous line as mere hyperbole, until some people who I really like (and should really know better) began using it. In fact, someone actually set up a website calling Walker Mubarak's "mini-me." (A reference only slightly fresher than candlelight vigils.)
Mark Pocan finished up the presser by actually making the points reasonable Democrats should be making about the bill. It overturns 50 years of settled law, it eliminates negotiation on things like worker safety and hours, etc. But then Pocan finished with a putrid cocktail of windbaggery, wrapping the National Guard and Mubarak talking points into one. (The day before, Pocan said the bill would return us to the days of the "Robber Barons." Presumably, he spent the latter part of Friday bunkered down at home loading up his musket.)
The key to any anti-Walker talking point is to infuse it with some sort of violent metaphor. "Scott Walker is assaulting state workers." "Scott Walker is taking a cleaver to the people of Wisconsin." Certainly, those are more exciting than "Scott Walker wants state employees to pay slightly more into an account which will accrue over time, which they can then cash out when they retire." That's not exactly a talking point that gets people in Minocqua to hop on a bus to demonstrate in Madison.
But why are they pulling up so short? It's time to start combining violent metaphors to get the full effect. "Scott Walker is dismembering state employees, then drowning them, then lighting them on fire, then telling them off-color jokes, then lighting them on fire again, then dropping them off a building, and then running over them with his car!" Now that's a call to action.
If this doesn't work, it always helps to play the Nazi card. It took the Teamsters over a half day to compare Walker to Hitler (what took so long?) – but their efforts fell somewhat short. In their letter to legislators, they spelled Hitler's name "H-I-L-T-E-R." When you're comparing an elected Governor to a genocidal maniac, it really is just common courtesy to use spell check.
This is only slightly more sensical than the quote of the week so far, from State Senator Spencer Coggs of Milwaukee. Coggs said "The ghost of Martin Luther King must be rolling in his grave when he anticipates in the state of Wisconsin we're going to have what, in effect, will be legalized slavery."
Set aside, for a moment, the fact that slave pension benefits were probably slightly less generous than that of a Wisconsin state employee. It's troubling that Coggs said MLK's ghost was rolling around in his grave. Why would the ghost be hanging out in Dr. King's grave with his body? Isn't the whole benefit of being a ghost the ability to go float around, rattle chains and stuff? I know if I'm ever a ghost the last place I'll want to be is in a smelly grave. Ghost me is hitting the nightclub looking for ghost honeys. Anyway.
Walker has said that if state workers don't accept his fairly modest proposal, he will have to cut up to 6,000 state employees. Thus, it would seem that a vote against his bill would be a vote to lay off 6,000 workers. When I put it this way to some Democrat friends, they strongly objected, saying that there were loads of "other options" on the table for making up the $3.6 billion deficit.
Needless to say, I love being lectured by the party who had total control of state government for the past two years regarding ALL THESE OTHER options available to close the deficit. Apparently none of which they were willing to use, as they left Walker with a $3.6 billion hole to fill.
The best theory I've heard, however, is that of my friend (and editor) Bill Lueders, who thinks Walker's plan all along was to goad government workers into demonstrating at the Capitol. Says Lueders: "Protests are exactly what Walker wants, because they can only lead to two outcomes: Either they are peaceful and accomplish nothing; or they turn violent and create a massive backlash against the unions and their members. Either way, Walker wins."
Ah, yes – Walker is begging for violent protests to change the minds 20% of Wisconsinites who aren't already with him. He is setting a trap for all the professional protesters in Madison into acting like fools to buttress his naked power grab. (Side note – if a protest in Madison gets violent, Egypt-style, what to people throw at each other? Fair trade coffee cups? Ironic eyewear?)
Sure, some union demonstrators may end up looking like idiots over the next few days. But most of the heavy lifting has already been done for them by their sympathetic politicians. Looking stupid is what they have lawmakers for.
So, people of the future, I hope this little internet time capsule finds you well. (And congratulations on my son leading the Green Bay Packers to their 13th Super Bowl title, over Brett Favre and the Shanghai Shooters.) Hopefully, your economy has improved a great deal under President Bieber.
When you hear about all the demonstrations at the State Capitol in 2011, this little post should give you a little idea what they were about. And if it seems a little strange that so many people were willing to protest being able to keep their jobs, you're right. Seems strange in 2011, too. -February 14, 2011