For years, Wisconsin's 30th State Senate district (around the Green Bay area) has been a swing district.  Held by Republican State Senator Gary Drzwiecki until 2000, it has now been won twice by Democrat Dave Hansen.  At one point this year, Republicans had some hope of perhaps taking the seat back, but that optimism seems to be fading fast.  In all likelihood, Hansen will win a third term comfortably.
All that being said, Hansen has managed to inject his race with a little sizzle.  Last month, Hansen issued a lit piece to the district meant to address gas prices.  On the piece, Hansen's staff used a photo of an electric car which they likely swiped from the internet.  When crediting the source of the photo, the piece lists "FreeFotos.com."  Only one problem:  Freefotos.com is a pornographic website.  (I'm not even going to provide a link to it here – if you're really dying to see it, you know how to find it.)
Here's the piece (click to enlarge):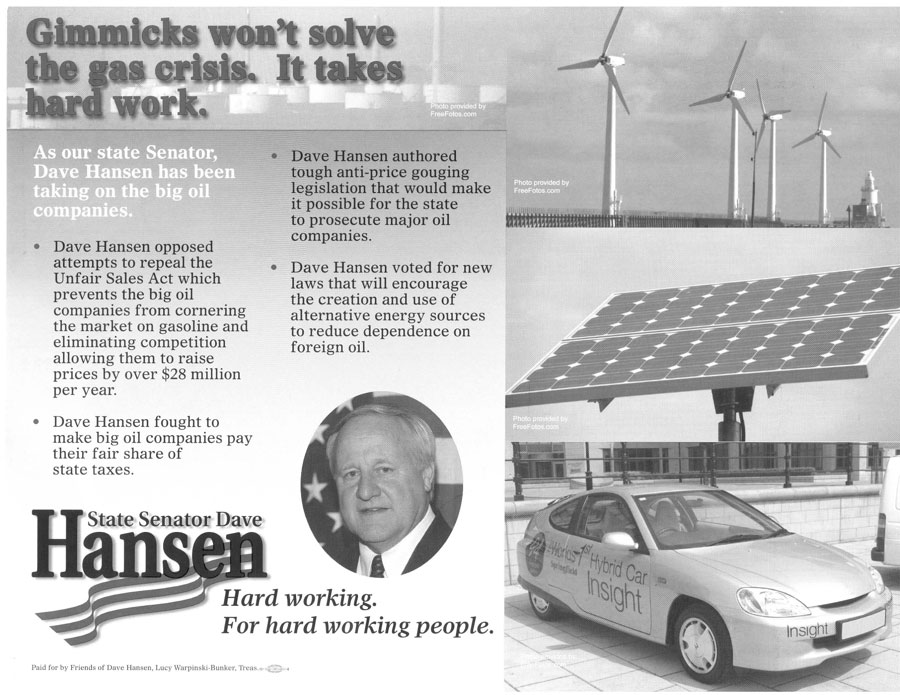 Note the Hansen campaign slogan:
"Hard working.  For hard working people."  I bet.
Of course, this is all meaningless in the scope of the campaign, yet still entertaining.