Is there a better time of the year to be in Wisconsin than right now?  The weather is cooling off just a bit, the leaves are starting to change, and tailgating season has begun.  You get to exhume from the closet the one sweater you have that makes you look skinny.  Young male high school graduates head off to college with the hopes of one day being able to have a sexual experience with someone else in the room.  The Brewers complete their traditional disastrous August, leaving Wisconsin sports fans to dream about the upcoming Packer season.  And Marquette fans don their red sweatshirts and head off to Madison to root for the Badgers.
Wait… what?
It's true.  In a phenomenon virtually unique to Wisconsin, we have two major universities who are bitter rivals; one with a major Division I football team, one without.  And the UW holds a monopoly on big time college football in the state.  So every fall, Marquette students and alums who want to root for an in-state football school dutifully don the cardinal and white and head to Camp Randall Stadium on Saturday afternoons.
It's the height of what ESPN columnist Bill Simmons calls "sports bigamy."  But it's even worse, given that the two schools are such fierce rivals on the basketball court.  Wisconsin and Marquette have played 115 times in men's basketball, with MU holding a 63-52 edge on the Badgers – largely on the strength of the Al McGuire-led teams of the 1970s.  In fact, until their Final Four appearance in 2000, the enduring image of Wisconsin Badger basketball was a photo taken of Glenn Hughes, the father of Badgers Kim and Kerry Hughes, giving McGuire the finger after a Warrior victory in February of 1974.
But now, with both teams perennial Top-25 quality (Bo Ryan amassed a 173-60 record in his first seven years), the rivalry is as intense as ever.  Both schools not only compete for recruits, but media time in the state.  In March of this year, the New York Times highlighted the animosity between the teams with these stories from MU's Wesley Matthews and the UW's Keaton Nankivil:
Nankivil, who was two years behind Matthews at Memorial High in Madison, remembers Matthews showing up for open-gym games at Wisconsin and nobody selecting him. Marcus Landry, a Wisconsin forward from Milwaukee, said the former Marquette coach Tom Crean had sent an assistant to ask him to leave when he was playing pick-up games at Marquette.
And it's not just in sports that the schools compete.  They compete for both students and prestige in the state.  Marquette students see Badgers as hippie drunks that they are forced to subsidize with their tax dollars.  Badger fans see Marquette students as elitist drunks whose school can't even settle on what to call itself.  MU students want to get to know Jesus – UW students merely want to look like him.  UW-Madison has a hilly, green campus where students dream of a world without war – Marquette has a gritty, inner city campus where students merely dream of a world where they still have a car stereo.  Marquette has Freeway, UW-Madison has Scanner Dan.  UW has the Wisconsin Idea, Marquette has Sobelman's burgers. (A wash.) You get the picture.
So it's unique that come football season, so many Golden Eagle/Warrior loyalists are able to compartmentalize their dislike of the UW and root on the Badger football team.  But it's also unsettling.
I tried to look at states where a similar situation existed: A private college with a top-25 level basketball team has its fans migrate over to one giant state school for football season.  In most cases, there are more than one über-state school for which to root – Michigan and Michigan State, for instance.  Or it's a situation akin to the states in the Northeast, who don't have any football at all of note, and only minor basketball teams (Maine, New Hampshire, Vermont, the Dakotas, Montana, etc.)
"Mr. Sportsbubbler" Dan Walsh mentioned Creighton, whose fans have to root for Nebraska's Big Red if they want to stay in-state for football.  But if your most notable alum is Kyle Korver, that probably eliminates you from the "rivalry" category.  Other smaller basketball schools are stuck in states with limited football options, but none with the pedigree of Marquette.
So for the next few months, Warrior fans will continue to wear their Badger paraphernalia on game day, then throw it in the bottom drawer and pretend it doesn't exist come December.  Perhaps the state needs another football powerhouse – can't we expand the UW-Eau Claire into Wisconsin State or something in order to give Marquette fans more options?  Wisconsin Tech?  Wisconsin A&M?  Bret Bielema may need somewhere to coach after this year, anyway – it's a win-win-win.
Lombardi Abuse
During the Packer preseason games, has anyone caught the Habush, Habush and Rottier commercials?  The ones where personal injury attorney Robert Habush begins by quoting Vince Lombardi, saying "when you score a touchdown, act like you've been there before?" (Some credit these types of lawsuits with the high cost of health care, and studies have shown that medical malpractice ads have grown 1,400 percent in the past four years.)
This has me distraught on many levels.  First, do we even care who gets to use Lombardi's quotes anymore?  Do we know what Saint Vince's position on ambulance chasing trial attorneys was?  This is a common Wisconsin problem: a textbook case of Lombardi abuse.
Maybe the next Habush commercial should go further in invoking Lombardi: "Winning job-killing settlements against businesses isn't everything, it's the only thing."  Or "when we chase down million dollar judgments, it's like the old Packer sweep."
Is nothing sacred anymore?  Are we going to see butt cream commercials citing Lombardi?  "Winners never quit and quitters never use Uncle Slappy's Antifungal Anal Salve!"
How about this – can't we just leave dead people alone?  Remember the commercials where Fred Astaire was dancing around with a Dirt Devil vacuum cleaner?  John Wayne was exhumed to sell Coors beer.  Recall the ads where they had the deceased Bob Dole using a Visa card?
Wait… he what?
It gets even worse – in the future, who even knows what's going to be a legal product?  People could end up endorsing things that weren't socially acceptable during their lifetimes.  What if in 2030 some big legalization movement takes hold, and someday we have the option to buy "Bob Uecker's Private Select Dime Bags?"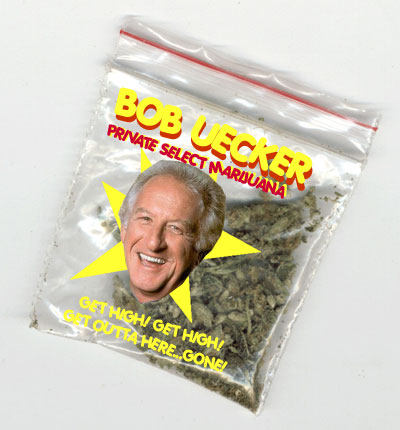 The Highest of Honors
While it was entertaining to watch Wisconsin's own Steve Stricker with the Deutsche Bank Classic golf tournament, I had to chuckle when they talked about his hometown.  Apparently Edgerton, Wisconsin (population 5,300) actually had a Steve Stricker Day!  How did everyone get off work for that?  Imagine how honored he must have been!  Shouldn't they hold a parade for any Edgerton native that manages to brush their teeth for three consecutive days?
Today's fun fact:
Prior to 1961, attendees to Milwaukee Braves games could actually carry in their own beers.  The practice ended that year, and Braves attendance dropped to 1,101,441, less than half their previous high, set in 1957. (Part of this had to do with the team's decline in play, but don't underestimate the effect of taking Milwaukeeans' beer from them.)
Can you even imagine if they held even one "BYOB" night at Miller Park?  Chances the stadium would still be standing by midnight: 1 in 20.  Would we see the world's first "three fisted slobber?"  Someone would find a way, trust me.
Behind the Times
I spent last night watching America's Sweetheart, Melanie Oudin, go down in flames in her quarterfinal U.S. Open match.  Until Wednesday, Oudin had beaten so many women even Shawne Merriman was impressed.
But does anyone still find it strange that women only play best of three sets, while the men play best of five?  Are we still under the impression that women don't have enough endurance to last that long?  (If anything, the opposite is true in my household.)
I'm certainly no feminist, but this practice seems a little out of place in today's PC world.  It seems ironic that in sports, which people credit with so much positive social change, there are still little pockets that refuse to adapt to the times – simply because we're always done things that way.  That's why we'll always have a team called the Redskins, and why we'll still call it the Big Ten when it has eleven teams. (Which is infinitely more offensive.)
Finally, my buddy Jay wanted to show everyone his fancy new Aaron Kampman jersey: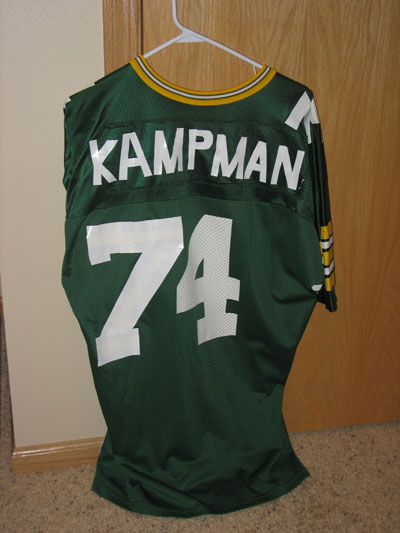 Also available in Jarrett Bush (#24), Quinn Johnson (#45), Brandon Chillar (#54), and Jarious Wynn (#94), among others.  My personal option would be to make it Vince Workman (#46), so it doubles in value as a throwback jersey.  Always thinkin'.
Finally Bill Simmons talks to Patton Oswalt about "Big Fan," a movie I desperately want to see.
Today's song: Kings of Convenience