There can be no debate – Milwaukee sports fans are a quirky bunch. What else can be said of a fan base that shows up to baseball games and cheers on giant sized foam rubber facsimiles of encased meats racing each other? (In terms of uniqueness, this ranks well ahead of the fact Milwaukee is the only city in the past century to have elected three socialist mayors. The natural next step is for the city to elect a socialist sausage mayor. Free sauerkraut for the masses!)
There's another characteristic unique to Milwaukee fans. Go to a typical Brewer baseball game and look around the stands. In every other major league stadium, you'd see fans wearing hats and shirts honoring their favorite team. In Milwaukee, it's much different. At Miller Park, you see more fans decked out in gear honoring their favorite team from nearly three decades ago.
Everyone remembers the old ball-and-glove logo adopted by the Brewers in 1978.  It cleverly incorporated the "M" for "Milwaukee" and "B" for "Brewers" into a baseball glove. Designed by contest winner Tom Meindel (for which he was paid the princely sum of $2,000), the logo graced Brewer uniforms for sixteen years, which also happened to be the golden years in the franchise's history. In the late 1970's and early 1980's, 90-win seasons and playoff appearances were the norm for the franchise (when only the two division winners made the playoffs), and the "MB" logo became nationally recognizable.
The team cast aside the logo in 1994 (adding a short-lived green element to the new logo), then changed to the current logo and color scheme in 2000. As it turns out, the uniform change in 1994 virtually coincided with a 13-year streak in which the Brewers finished with losing records. (When Brewer fans hear the words "Scrap Iron," they shudder like sea otters do when they hear the words "Exxon Valdez.")
Yet even after nine years of the current version of the uniforms, the good ol' ball and glove logo reigns supreme in Milwaukee. Fans flock to sports stores to buy Prince Fielder and Ryan Braun jerseys in the royal blue and yellow that identify them as old school.
Sure, other teams will revive old logos for "turn back the clock" games, and some teams have kept their uniforms and logos identical for decades. But in no other city do the team's fans identify more with a team's bygone era than in Milwaukee, where the old colors and logos actually seem to outsell the current hats and jerseys. Until this year, the Brewers actually cultivated this nostalgia by having the team wear the old uniforms for every Friday home game (now, they do it once a month.) But they still license and sell the old gear, due to fan demand.
So why do Milwaukee fans cling so tightly to the past? Certainly, other cities have nostalgia for their teams of a quarter-decade ago, but no other cities refuse to let go of their 1980s identity like Brew Town. Perhaps the answer lies not in the Brewers, but in the City of Milwaukee itself.
In the late 1970's and early 1980's, Milwaukee was a national powerhouse. The city had sports teams that dominated the national scene: The Brewers were always in the discussion for a World Series appearance. The Bucks were on their way to the third best record in the NBA for the 1980's, behind only the Lakers and Celtics. Marquette was still glowing from a 1977 national men's basketball championship.
Aside from sports, Milwaukee still had its long-earned identity as the place where the nation's beer was brewed. Pabst, Miller, Blatz, and Schlitz, all of which were founded by 1856, were all still cranking out the suds and providing good union jobs. (In 1843, one historian counted 138 taverns in Milwaukee, one per every forty residents.)
In 1980, Milwaukee was the nation's 16th most populous city. Its manufacturing base was strong, leading the nation not only in beer production, but in industrial control equipment, mining gear, cranes, independent foundries, and of course, one of the leading indicators of industrial muscle – Harley Davison motorcycles.
During this era, Milwaukee also had its place in the nation's popular culture. Both "Happy Days" and "Laverne and Shirley" gave viewers weekly reminders that the city was still alive and well. If you asked people around the country, at least half of them would recognize "Shotz" as a real brewery in Milwaukee. (Although for the last three years of the series, Laverne and Shirley moved to California.) Laverne and Shirley was cancelled in 1983, while Happy Days held on until 1984 – yet the fact that Milwaukee just recently unveiled a statue of The Fonz is further evidence of the city's nostalgia for that era.
Soon, both in sports and in life, things would begin to turn for Milwaukee.
Globalism and technology soon caught up with Milwaukee's industrial base. Manufacturing jobs began leaving, and the stubborn city was slow to adapt to the new service and technology based economy. By 2009, only one major brewery – Miller – was left in the city, and it had been purchased by a South African company and merged with Colorado-based Coors. Milwaukee began to hemorrhage jobs. Incomes fell to 23% lower than the average American city. People fled Milwaukee, causing it to drop out of the top 20 most populous cities in the U.S. (it is currently 22nd.) By 2007, the city's population had fallen 20% over its high in 1960. (It also didn't help that Milwaukee earned a reputation as a city where there's a decent chance you might be eaten alive by your neighbor.)
The world of Milwaukee sports was similarly affected by the change in times. New cable television technology allowed major league baseball teams to control their own television revenues. Large market teams used lucrative new television contracts to spend more on the best available players, leading to an even greater disparity in revenues. Teams like the Brewers were saddled with middling talent, in aging stadiums, with front offices that made bad decisions. Fans watched patiently as the next big Brewer star always seemed to evaporate overnight. (Billy Jo Robidoux and Joey Meyer, your phone is ringing.)
Aside from 2001, in which they were a Glenn Robinson baseline jumper from making the NBA finals, the Bucks have been mediocre at best, and more often, pretty awful. (Not coincidentally, the Bucks have also tried to lure fans from their glory years back to the fold by reinstating their original uniform colors.) The Packers, of course, had a glorious run through the late 1990s and into the current decade. Had it not been for these years of success, Milwaukee may have just collectively drowned itself in Lake Michigan. (Also, if the Packers ever tried to change their uniforms or logo, torch-bearing fans would burn down Lambeau field.)
So it makes sense that Brewer fans, more than fans in other cities, would choose to cling to the glory years – both for the team that they root for and the city in which they live. In this city, there will always be nostalgia for the time that nobody messed with Milwaukee. A time where you could get drunk and kiss a girl without having to sign a consent document. A time when you could throw an aluminum can into the trash without ending up on some neighborhood recycling watch hit list. A time when a cigarette dangling from your lip identified you as someone not to be crossed. An era when the size of your mustache was directly related to your ability to score chicks. A day where being spotted in a Trans Am didn't mean you were going somewhere, it meant you had arrived.*
In a small way, the old logo and gear does that for us. But how does it make the current players feel? No matter how many home runs Prince Fielder hits, he always knows that he can't match the fans watching Robin Yount pinball doubles off the County Stadium outfield wall for 20 years. The Brewers are almost like Kim Novak in Vertigo – "Here, dress like the old Brewers, and we'll love you just as much."
It may be time for the Brewers to either fully embrace the old logo or cut ties with it altogether. Brewer fans can continue to reminisce about the old days, but today's team won't always be seen as secondary to the teams that we grew up loving.
In his book "The Making of Milwaukee," historian John Gurda noted the intense nostalgia of Milwaukeeans, saying, "It is impossible . . . to shed the accumulated weight of the past, to truly reinvent the character of either an individual or a community. History serves as both ballast and bedrock."
The current Brewers are finding that out now.  We want our old Milwaukee back.
***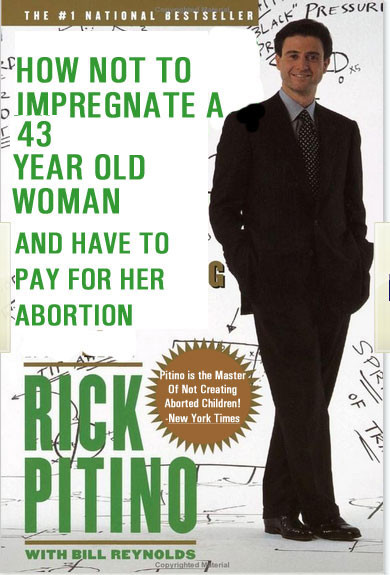 The craziest part of this whole Rick Pitino scandal is the fact that the guy has written not one, not two, not three, but FOUR motivational books.  For four volumes, he has presented himself as the guy who is going to tell you how to turn your life around.  And now he sits here, disgraced, having admitted that he impregnated a 43 year-old woman in 2003 after a tryst at a local Louisville restaurant, then allegedly paid for her to have an abortion.  (I read one of the books, called "Success is a Choice."  Apparently for Pitino, success means being pro-choice.)
The hypocrisy is astounding.  The only way Pitino could look more like a fool is if he actually once authored a book called "How Not to Impregnate a 43 Year-Old Woman and Have to Pay for Her Abortion."
What will be interesting is how fans at certain schools react to Pitino when he comes into town.  I'm thinking primarily of Marquette, a Catholic, Jesuit-run university that most likely frowns on Pitino's… errrrr… discretions.  Certainly, not all students at Marquette are pro-life, in keeping with the Catholic tradition.  Many aren't Catholic at all.  But those that are generally tend to be intensely pro-life, and not at all shy about expressing such views in public. If you're an MU student who subscribes to the Catholic doctrine, then you believe that Pitino essentially paid $3,000 to put a hit out on an embryo. Certainly, at places like MU and Notre Dame, Pitino (who actually wrote a book on being a devout Catholic) will hear all about what those students think of his scandal.
It's rare when such a sensitive political issue reaches the stands of a sporting event.  Let's just say I'll be surprised if several Marquette students don't show up to the game dressed like the Pope, and perform mock excommunications.
Just to recap your State of Kentucky basketball coaches: Louisville's Pitino impregnates women on restaurant tables, new Kentucky Wildcat coach John Calipari escaped Memphis before they got drilled with NCAA sanctions, and recently deposed Kentucky coach Billie Gillespie just got popped with his third drunk driving arrest (although charges were dropped in a 2003 incident involving Gillespie.)  If Charles Manson weren't still behind bars, he'd probably be coaching at Western Kentucky.
***
Oh, and as mentioned on national TV last week, Big Papi is a Packers fan.  He married Tiffany Brick from Kaukauna, whom he met while playing minor league baseball in Appleton.  So there's that.
Fort Atkinson's own Luke Winn has a really good article in Sports Illustrated about Ken Griffey, Jr. and the death of baseball cards.  Remind me to write more about this later.
* – I stole that from \"Mad Men.\"