As fans, we use the Packers for myriad purposes.  We watch the games on the weekend to escape our real lives, where we're constantly harassed by overpaid bosses, smelly co-workers, and oil change employees that pester us incessantly to buy all the worthless extra add-ons.  We use Packer games for social events – as an excuse to get a group of friends together, and eat and drink until your arteries begin legal divorce proceedings against you.
Yet few people actually use the Packers for one of their most valuable purposes: to spark true love.  In fact, once you're married, many wives view sports as the primary antidote to romance.  But if you play your cards right, you, too, can use the Packers to find a woman who is willing to officially declare herself an eligible receiver… OF YOUR LOVE.
In fact, merely listing yourself as a Packer fan is the first step to finding true love the same way Grandma and Grandpa did – by posting a personal ad on Craigslist.  All across Wisconsin, the lovelorn masses are taking to the web to find that special someone.  Their passion is so raw, not even spelling and punctuation can contain their priapic prose.  And their affinity for the Packers is what they are banking on to lure themselves just the right suitor.
Here are some of the highlights from actual Craigslist personal ads in which the owners identify themselves as Packer fans:
If you're in Eau Claire, here's a 54 year old male seeking companionship from another male.  Of course, there's no problem with that – only, he says he's both a Packer and Viking fan – which is actually more gay than the fact that he's seeking companionship in the arms of another male.
For coming out of the closet, this guy deserves our respect.  For liking both the Vikings and Packers, he deserves to be thrown off the roof of a Hardee's.
Now if you're a straight male in Eau Claire, you most certainly should look into this delicate flower of a woman – whose profile simply must be reproduced here in its entirety for you to get the full effect.  Lay back and let the awesomeness of this wash over you as you soak it in:
I love football. Packers of course. Eli manning is my favorite player tho. I drink often enough. blue moon is my poison. I play a mean guitar hero. and kinda ok at D.D.R. I like chillin fishin cruisin booze cruisin but i dont do the drivin when i drinkin. My favorite show is secret life of the american teenager and my favorite movie is across the universe. favorite song is All i Want by Staind. If you havent heard it you should. My eyes are blue my hair is bonde…naturally. Right now its dark brown. I an 5 feet 3 inches tall on a good day usually i only amount to 5 foot 2. I broke my left ankle when i was 16 and now my foot flops around like a fish cuz i stretched a tendon…and i have a pinched nerve on my back right next to my right shoulder blade. I have alot of piercing ears nose other things. i have a really up beat personality i am usually high on life. i hope to be a probation officer or some other type of corrections work while working on going to law school and do the whole lawyer thing and i hope that one day to be a d.a. i know its a big dream but im going to make it happen. if you cant tell i am very confident when i comes to most things. Im am a great person but i wanna be greater than what i already am.
Are you hot yet?  SHE HAS A FLOPPY FOOT!  But don't get her drunk, because she "dont do the drivin when I drinkin." However,  fortunately for you, she is a PACKER FAN, which she hopes pretty much cancels everything else out.  So congratulations – you have found the one woman in Wisconsin who roots for the Packers, so don't let this one wriggle off the hook, boys.
(Of course, as with everything else on the internet, this profile could be fake.  This personal ad, in which a Milwaukee man claims to be seeking a female Packer fan with LONG BRACES ON EACH LEG (real… or pretend?) most certainly is bogus.  Just like Barack Obama\'s birth certificate.  (Let's be honest – there are certain things the internet just can't make up!)
Some Craigslist users supply multiple photos on their profiles so you can get an idea of what they look like.  For instance, this Packer fan lawyer from Milwaukee (who, based on his write-up actually seems like a pretty nice guy) supplies this photo of himself: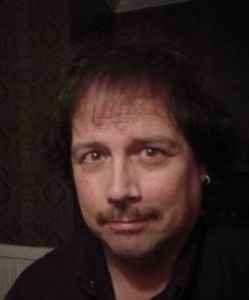 But, just in case you don't get the full idea of what he looks like, he throws in this completely different bonus pic: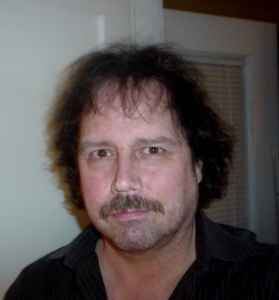 Glad he cleared that up.  (He also supplies a third photo, of his all-access pass to a Jethro Tull concert.  So there's that.)
Speaking of pictures, this young lothario from South Milwaukee, fresh off the disappointment of the Packers loss to the Bengals, decided to take to the internet to find a classy woman to console him:
 So all cl seems to be is black women or trashy white women. Thats fine and all but i like asian women. If there are any asian women in milwaukee or the milwaukee area that like attractive athletic white guys hit me up and lets talk. Ive included a pic. Please dont reply to me if you arent asian or a woman. Put ASIAN in the subject so i know your real.
You see, women of South Milwaukee, this guy is all about class.  He doesn't settle for "trashy white women."  Which is why he decided to include a photo of himself shirtless – to attract ladies that enjoy the finer things.  And who, apparently, are Asian.
(Chances of any Asian-American woman actually responding to this idiot with an e-mail that has the word "ASIAN" in the subject line: negative 43%.  Under new legislation being circulated around the capitol, this personal ad might actually qualify as a hate crime.)
Other Packer fans on Craigslist aren't as discriminating.  Take this guy in East Madison, who's "looking for a football watching buddy."  He's a progressive lover – not "not hung up on age, race, or how tall you are."  He does, however, follow up by saying he doesn't like "like people who want to smoke around me or who are heavy."
As we all know, when dating, it's important to keep an open mind about race, religion, and looks.  Just as long as they're not a fatty.
Speaking of fatties, this Packer enthusiast from Appleton would like to roll one and smoke it with you.  In order to hook up with this young man, you must be willing to "indulge in the reefer," and "like jam bands/hippie music."  (Or as B.J. Raji calls it, "Tuesday.") He also likes his woman "with a little meat on her bones," so all you supermodels who started e-mailing him after you read the first sentence need not apply.  Fortunately, I think we found the guy who bought this t-shirt off eBay last week: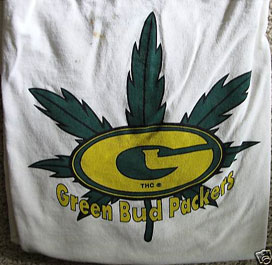 While you're blazed up in Appleton, you can stop by this guy's house to watch the Packers and the Cubs.  Describing himself as a "huge cuddler" and an expert at giving back massages, this guy fills his profile with his entire life story – given how many exclamation points and smiley faces he uses, the chance of you wanting to hit him with a shovel after a half hour stands at about 98%.  This "gender Judas" throws the rest of the world's men under the bus, asking women not to judge him based on "the actions of the majority of his gender," then throws out about fifty words to describe him and his ideal mate.  He caps his tome off with a phony picture of him sleeping on a park bench: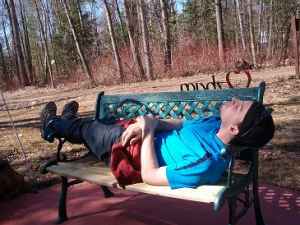 Moving on.
While combing through Packer-related personals, a certain brand of man began cropping up: the guy with tickets who's looking to use them to purchase a date with a woman.  I believe there's a name for women who accept payment to go on dates, but I'm drawing a blank right now as to what it is.
Client #9 in this saga is this guy from Green Bay, who claims to have "first row" seats to Packers games, and tells women to call him "if they like what they see."  Of course, if there was much to see, he wouldn't have to bribe them with front row tickets.  (There's an 80% chance these tickets are in "first row" of the folding chairs in his mother's basement.)
Even better is this guy, who also craves female companionship at a Packer games.  In a bid to lure a "lady packer fan," [sic] he expresses his desire to go to the game with a "fun paacker-fan girl."  Only this guy… wait for it… EXPECTS THE WOMAN TO HAVE THE TICKETS.
That's right, ladies, it's a double winner for you.  Not only do you get to go to the game, you get the profound honor of supplying this guy with a ticket.  What Packer hottie with a spare ticket wouldn't jump at that chance?  Oh, and just to show you he's on the level, he supplies a picture of his shirt: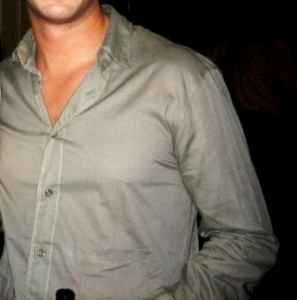 That should clear up any misgivings you might have about going to a game with a complete stranger.
As one works their way through Craigslist ads, another type of personal ad comes up: the aggrieved lover.  The person who obviously just got their heart ripped out and they go into WAY too much detail explaining what happened.
Take this 28 year old Packer fan from Madison:
   Hey. I got out of a very disfunctional relationship about four or five months ago. The girl was still on my mind and in my heart. We started talking a little bit after a tragedy that affected both of us. Feelings for this evil woman started stirring again. But then I got punked. She was just screwing with my head to hurt me and it worked. Now I\'m feeling lonely as ever… I have a lot to say and no one to say it to. My ex said that no one will ever love me again. I hope she\'s wrong. Are you out there?
My computer is currently in the shop, but I can check email from school or from my phone. Please dont be involved in any sort of ambush directed at me, as I wouldnt put it past some people in this messed up world. Thanks for reading my post.
Holy crap – what well adjusted, attractive young woman wouldn't jump at that chance?
There are plenty of men and women who make this same mistake.  It's as if you can tell exactly what horrible things happened to them in their last relationship just based on what they don't want from their new partner.  Stuff like:
"I'm looking for a man with a good sense of humor who won't have sex with my sister right upstairs while I'm downstairs eating my Chef Boyardee ravioli and watching Dancing With the Stars!  Serious inquiries only."
One other trend that pops up among Craigslist personal ad users is that it's almost always men who mention the Packers in their personals.  A few "women seeking men do," (with floppy feet, as noted above) and only one "woman seeking woman" popped up.  (There was one woman seeking an "Ebony and Ivory" relationship with another woman, but I sincerely doubt that was a reference to Eddie Lee Ivery.)
However, the one "woman seeking woman" Packer ad that surfaced is noteworthy primarily because it can't be reprinted here in this column.  Just read it yourself and make sure you have a cold shower nearby.  Good Lord.  (Deep breath.)
As is demonstrated above, single Packer fans need not suffer in silence anymore.  They can simply take to the internet and find the best online romance the web has to offer.  No longer do they have to find Packer love the old fashioned way: by leaving your part time job at Boston Store, running for State Treasurer, taking expensive trips on the taxpayers\' dime, hiring all your relatives in your office, then using your newfound and unexpected position of authority to meet Donald Driver and grab his ass: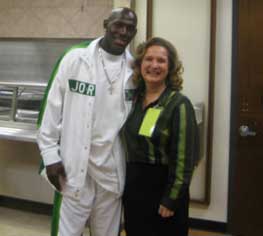 And now that you have secured a date from the best the internet has to offer, here's my last tip (as if I haven't given you enough already:) Make sure to play this song for your date – since no woman can resist the sheer sexual power of a jheri-curled mullet: