The Ego has landed.
It appears I can now go back to the adult theater and retrieve the "Favre 4 Ever" towel I gave them to assist in cleaning up after shows. Although both the towel and Favre's reputation may be equally and irrevocably sullied at this point.
On Tuesday, Favre announced that he wouldn't be playing for the Minnesota Vikings in the upcoming NFL season. At least he said it until he un-says it. Vikings fans can now look forward to the Sage Rosenfels Era, which is only slightly less anticipated than "The Love Guru 2."
After 8 months of coverage, it may seem that every angle of this story has been thoroughly dissected. For instance, each Green Bay fan has had to go through the shock of learning that their infallible idol of 17 years was a self absorbed, narcissistic, jerk. (For example, check out this idiot with the bad haircut, who actually went on public television to say things like "Favre's class, every day guy demeanor and toughness made him the best spokesman for Wisconsin we could ever dream of.  And it can never be taken away from any of us."  I am now going to slam my head in my car door repeatedly.)
Finding out Brett Favre is a pompous ass is like finding out Darth Vader is your father. Or that Adam Lambert is gay. The trauma caused by knowing the last 17 years of your life is a fraud makes you think nothing is real. God is Dead.  Charlie Sheen and Michael Jordan star in underwear ads together.  In The Breakfast Club, they never actually eat breakfast.  The combover remains an acceptable hairstyle.  Nothing makes sense anymore.
But there's a disconcerting point about the Favre saga that expands well beyond just his endless Hamlet routine. Favregate reminds us once again how disconnected players are from the experiences of the fans. I mean, Favre decided he wanted to come back to the Vikings. Let me repeat that – THE VIKINGS. One of the teams so reviled by Packers fans that merely mentioning their name in some quarters 200 years ago could have led to your tongue being cut out. (Or, in modern terms, withholding cheese curds from a Packer fan for 3 consecutive days.) My daughter is already aware that she will never date any young man that dares to wear a piece of Viking or Bear paraphernalia in my house. (Thankfully, she has held true to this rule, but only because she's 5 years old.)
The problem is, players see other teams as potential employers. Fans see them as sworn enemies. Nothing is more galling than seeing Brewers and Cubs yukking it up on the field before the game. This is like finding out Seinfeld and Newman were secretly lovers.
In today's sports, players are millions of miles removed from the fan experience. Just ask my wife, who walked in the room and encountered me doubled over in pain after watching Brewer Jeff Suppan give up a grand slam to the rigor mortis-inflicted Washington Nationals. Think anyone on the team felt as bad as I did? Imagine, for example, Ryan Braun going 0-for-4 with four strikeouts. He would be forced to drown his sorrows in a hot tub with four Bacardi Rum shot girls. Someday, he'll probably have to go on the DL from all the paper cuts he suffers from bathing in $100 bills.
Not so in the old days, before free agency and big money. My Dad likes to tell the story of the day he rode his bike by Warren Spahn's house, only to see one of the greatest lefthanded pitchers of all time out mowing his lawn. Warren Spahn! And the players used to actively buy into rivalries, since free agency didn't allow them to skip from franchise to franchise in search of a richer deal. Jackie Robinson, then of the Los Angeles Dodgers, actually decided to retire when he found out he had been traded to the hated San Francisco Giants.
But now Brett Favre can't even muster up enough effort to hate the Minnesota Vikings. It's really not that hard to hate – I hate people because they have crazy sideburns, or because they drive too slow, or because they write checks in line in front of me at the grocery store. Surely Favre can muster up enough distaste for a team that took cheap shots at his knees for 17 years. I mean, come on Brett – let the hate FLOW.
I suppose I can cling to the theory that Favre hated the Vikings so much, he decided to string their fans along and crush their dreams at the last minute. It seems only slightly less plausible than the theory that Dick Cheney was controlling the 9/11 planes via remote control, but it makes me feel better.
In other news…
When rumors started circulating that the Mariners were offering Wisconsin native Jarrod Washburn in exchange for prized shortstop Alcides Escobar, I laughed them off.  After all, if Escobar was too much to offer up for the Blue Jays' Roy Halladay, he certainly had to be too much to offer up for a 35 year old with a lot of miles on his arm (although his 2.59 ERA is impressive.)  But what is troubling about this Washburn-Escobar article is that it doesn't contain a line like, "Melvin fell down laughing and urinated on himself when he heard the offer," or the more desirable "upon hearing the offer, Melvin cordially invited the Mariners to engage in intercourse with themselves."  Could this have actually been in the works?
It would seem that having a stud shortstop in waiting like Escobar would actually depress the trade value for a guy like J.J. Hardy, who I (probably mistakenly) still think might have some value.  But if you\'re a team looking to trade for Hardy and see that the Brewers have their shortstop of the future in waiting, why would you pony up much at all, knowing they almost have to get rid of him eventually?  Even fantasy baseball players know this trading trick – along with trying to get your fellow owner as drunk as possible and throwing in a worthless player from their favorite team to sweeten the pot.  (I once inexplicably heard the phrase "Oh, you're adding Matt Mieske?  Then it's a deal!")
It would seem that Mike Cameron might actually be the most marketable trade bait at this point.  Good power, great outfielder, still has some speed, and a great guy in the clubhouse.  For some reason, he's enjoyed a Robert Downey Jr.-like career resurrection in Milwaukee.  Prior to coming to the Brewers, Cameron averaged one home run per 24 at bats for his career – then, in 2008, at age 35, he began hitting a home run every 16 at bats, and hasn't stopped.  Maybe joining a bowling league and eating a steady diet of cheesy grillwursts has revived his youthful vigor.
(It should be noted at this point that we just passed the one year anniversary of Wisconsin State Journal columnist Tom Oates' proclamation that C.C. Sabathia was "out of reach" for the Brewers, followed up a week later by his adamant declaration that the Brewers needed Sabathia NOW!  After they actually traded for him.)
Speaking of Doug Melvin, is there another case in professional sports where a team's General Manager looks exactly like their mascot?  Has anyone ever seen Melvin and Bernie Brewer in the same room?  Is Bernie the one taking calls from other GMs from up in the Chalet?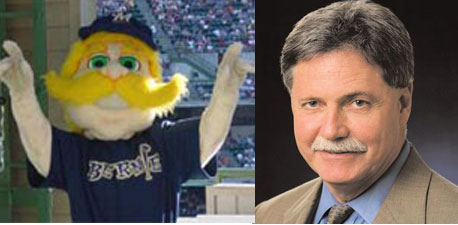 I can imagine the following phone call:
Receptionist: "Brewer front office.  This is who?  J.P. Ricciardi from the Blue Jays?  Yes, Mr. Melvin is in, but wait… someone just hit a home run, and he's heading down the slide.  Can he call you right back?"
At least Melvin would have someone else to blame for Jody Gerut.
More Brewers: As hard as it is to fathom, is there a chance that Bob Uecker is actually underappreciated in Milwaukee?  Sure, he's been ubiquitous here for 30 years – but have a look at this video of Uecker on the Tonight Show with Johnny Carson in 1984. (I'll wait right here.)
https://www.youtube.com/watch?v=bLPKXUb25vU
It's not just "sports" funny – it is legitimately funny, by actual comedian standards.  Seth Myers from Saturday Night Live called that clip a "clinic" in deadpan comedy.  Not only is Uecker one of the funniest guys in sports, he may legitimately be one of the funniest comedians working today.  And we have the chance to listen to him on a daily basis.  It is truly an honor.
In my last column, I offered up a suggestion to the Brewers marketing division – fly the wildly entertaining Gallardo Brothers up here and make them local celebrities.  It appears my plea went unheeded.  So I'll try again.
A few weeks ago, when I was sick as a dog on my couch, I watched a good 14 straight hours of old World Series highlights on the MLB Network.  And as the years go on, you can slowly see the quality of fans' attire devolving.  Up until the mid 1960's, people actually got dressed up to go to games – suit, tie, and the whole deal.  Now, people show up to games dressed like they're going out to change their oil.  How classy would it be to have "wear a tie to the game" night, like the old days?  Everyone has at least one dignified outfit to wear to a game.  It shows class, and reverence for the past – something baseball is always pushing. (The only problem I forsee would be that on those nights, women wouldn't be able to vote for All-Star Game starters.)
Of course, everyone is down on certain Brewers for having subpar seasons – Bill Hall, J.J. Hardy, Corey Hart, and Manny Parra among them.  But lost in the shuffle is the inexplicable greatness of Craig Counsell, who has hovered around the .300 batting average mark for nearly the whole year.  (In a national broadcast two years ago, Geoff Jenkins let the world in on the fact that Counsell's nickname was "The Grumpy Rooster," a fact that I demand be repeated on TV broadcasts on a nightly basis.)  Counsell's drastic improvement has come at age 38, and directly following seasons in which he batted .220 and .226.  In fact, given his historical track record, I dare say if Counsell ends up batting over .300, it will be one of the most impressive Brewer achievments of all time – right next to Molitor's 39 game hit streak and John Jaha's streak of going three straight days without a drunk driving arrest.