Some buddies and I made the frigid jaunt to Lambeau Field yesterday to watch the Packers catapult themselves into the playoffs with a 48-10 beatdown of the hapless Seattle Seahawks. It appears I still have all my toes – and I may have even picked one or two up from someone else. Not sure how that happened.
The first thing I noticed was that there were entirely too many Favre jerseys still being worn at Lambeau Field. I know that in the past 20 years, most Packer fans only owned one jersey, and it was usually Favre (I owned one myself.) But for the love of God, what exactly is Favre going to have to do to get Packer fans to stop wearing his jersey? Go on a shooting spree through Brookfield Square Mall? Get caught urinating on the statue of Vince Lombardi? (Even then, people would blame Ted Thompson for putting the statue in the way of Favre\'s stream.)
But here's what I have come up with to fix this problem. Remember those stories about how they take all the pre-printed Super Bowl champion t-shirts from the losing teams and send them to impoverished nations in Africa so the kids have something to wear? (For instance, the kids in Nigeria are all running around in Chicago Bears 2006 World Champions t-shirts and hats.)
I say we start a foundation where Packer fans can donate their Favre jerseys, and have them shipped off to poor African nations, so the kids there have something to wear. We'll airlift them thousands of Packer #4 jerseys, along with some granola bars. Then, on the next flight, we'll airlift them some DVDs of the 1996 Super Bowl win against the Patriots. It's perfect – in some little Sudanese villages, the reputation of the 'Ol Gunslinger will live on intact, untouched by the recent self-inflicted stains on his reputation. Then we can send all the Favre jock-sniffers over there as aid workers to tell the kids stories about Favre's glory years and how the evil Ted Thompson cast him aside in favor of… another pro bowl quarterback who is going to be around for a decade longer.

(This idea is almost as foolproof as my idea to create facemasks that stick out like three feet, and extend down to the player's waist – then, it would be impossible to tackle them without being called for a facemask. The Packers would just march down the field, 15 penalty yards at a time. It's an airtight strategy, if you ask me. Here's a prototype that I've developed:)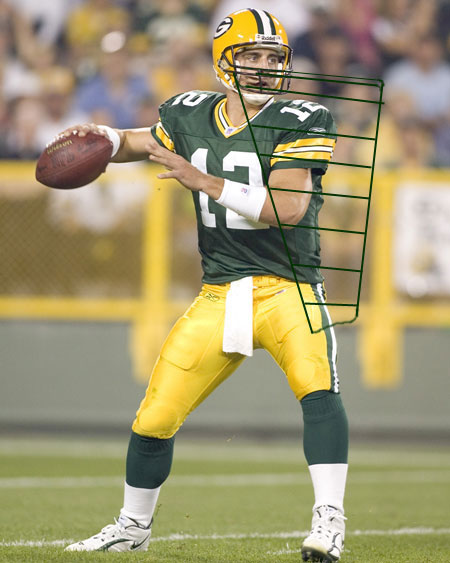 As always, much of the fun of going to Lambeau is seeing all the obscure Packer jerseys on display. But yesterday, we saw a feat that may never be matched – three guys walking together wearing the jerseys of Chris Jacke (#13), Don Majikowski, (#7), and… Jeff Query (#85.) Let me repeat that – a guy was wearing a JEFF QUERY jersey. You may recall Query being drafted in the 5th round of the 1989 NFL draft, then starting zero games for the Packers in his three years on the team. In 1990, Query caught 34 passes, although he was used primarily as a kick returner. He moved on to the Bengals in 1992, played three more seasons, then called it a career. Yet he lives on in Lambeau thanks to the young man wearing his digits.
Before the game, naturally, we tailgated in balmy 20 degree weather. By the time I hit the port a potty and got back to the tailgate, my friend had put down four beers. I had been fighting a cold for a full week, and decided to not drink at all – and it was the best decision I could have made. I have a Dimaggio-like streak of drinking in the afternoon and things going badly.
I've said it before, and I'll say it again – I don't understand the idea of getting completely hammered before a sporting event. Not to get all philosophical, but once the game is over, aren't our memories of it all we really have to keep? And if you're plastered, don't you lose your memory of the game? So what's the point?
Try this – imagine two scenarios:
1. You get to make sweet, sweet love to Jessica Alba for three hours, although once you're done, you don't get to remember any aspect of it for the rest of your life; or
2. You don't get to touch Jessica Alba, but you think you did, and you get to carry that memory with you for the rest of your life.
Which one would you choose? I'd take the lifetime memories, for sure. What good would options number one be if you can't remember anything? (Other than the three hours at the time – or in my case, the sixty seconds of pleasure, and two hours and 59 minutes of crying.)
In any event, I was happy I didn't drink.
Perhaps the best non-football highlight of the day occurred when American Idol finalist (and Milwaukee native) Danny Gokey showed up to sing "Roll Out the Barrel." He showed up on the jumbotron, to milquetoast applause. Then, before he started singing, he invited the audience to purchase his new album, coming out this week. At that point, he was serenaded by cascading boos from the crowd. "BOOO! BOOOOOOOO!" The Lambeau faithful weren't there to be sold a bunch of junk – which is ironic, since there appears to be no fan consternation about having to pay $6 for a bottle of Miller Lite. (Gokey was also flanked by SIX security guards – which is reason #6,983 the terrorists hate us.) Later in the game, with the Packers blowing out the Seahawks, my buddy Jay suggested they put Gokey back to return punts. I can't think of any reason why this wouldn't have been a good idea.
At some point during the game, after another shanked punt, my buddies deemed Jeremy Kapinos "The Greek God of Feminine Hygiene Products." I don't even really know what this meant, but it made me laugh.
After the game, we stood down near the tunnel where the players exit the field. Several players – led by Charles Woodson – ran around the field, hi-fiving fans in the stands. When Woodson made his way back around our way, we started a chant of "MVP! MVP!" When Greg Jennings came our way, the chant changed to "YOU'RE PRETTY GOOD! YOU'RE PRETTY GOOD!"
The ride back to Madison was rough – especially on Highway 41 heading South. I'm generally fairly sympathetic to people who get in car accidents, but I swear to God we should fine anyone $5,000 that spins off the road after a Packer game. It costs thousands of people 45 minutes of their lives while traffic grinds to a complete halt. Someone call the Legislature.
So while we were stuck in the car for hours, we listened to the Packer postgame show on the radio. This is one of those things that I find highly entertaining about Wisconsin life, but sincerely hope nobody outside the state can hear. For instance, about 10 years ago, I remember listening to people call in to a Packer post game show, and one guy said the following:
"I think if he stays healthy… and only if he stays healthy… Billy Schroeder could put up Jerry Rice-type numbers."
He was, of course, referring to Bill Schroeder the white Packer wide receiver, and not the large-domed former Brewer catcher and current baseball announcer.
But what blew me away about this guy was that he thought he was being reasonable by throwing in the caveat – "If he stays healthy." He thought he was downplaying his statement by adding qualifiers. He didn't realize that even with his attempt at reasonableness, what he was saying was clinically insane. Such are Packer post-game callers.
Anyway, so this guy calls in yesterday to talk to 'The Big Unit" Bill Michaels, and the caller's fumbling around, not making any sense. So in order to get out of the conversation, he just yells "GO PACK" and hangs up.
This got me thinking – I think Wisconsin is the only place where "GO PACK" is actually used as a punctuation mark. You can end any sentence with it, and it makes total sense to people. It doesn't make any difference what news the preceding sentence delivered – if you slap on a "GO PACK" at the end, you can say pretty much anything.
Here's a sampling of sentences that could easily be softened with a well placed Packer cheer:
Judge: "Mr. Smith, how do you plead in the twenty six counts of touching little boys for which you are charged?"

Mr. Smith: "Not guilty, your honor. GO PACK!" (Jury nods in approval.)
Or:
Doctor: "Mr. Gallagher, I have some bad news – it's inoperable. You have three months to live. GO PACK!"

Mr. Gallagher: "That is bad news – but Aaron Rodgers is really coming around, huh?"
I finally arrived back in Madison around 8:15 PM – which made for a long day, considering I had left my house at 6:30 that morning to pick up friends and get to the game. Granted, not everyone is coming from Madison, but you have to wonder whether there will ever be a tipping point where fans like me decide it just isn't worth it to make the trip to Green Bay. On the one hand, you get to experience an event unlike any other in sports – a Packer game in Lambeau. But on the other hand, it's become an all day affair – and with ticket prices going up as fast as they are, and with high definition televisions bringing you closer to the game, aren't a lot of people going to decide that watching the game at home is just as enjoyable as freezing to death all day in December? (The answer to my question, of course, is that if people decide to stop going, there are only about 60,000 people on the waiting list that would happily grab those tickets.)
Finally, one thing that's worth noting that I haven't seen covered, is that yesterday may very well have been Mark Tauscher's last game in Lambeau. It's a great story for a Wisconsin kid to live out his dream by playing for both the Badgers and the Packers, and now it might be over. So we should all be thankful for the time we had him.
Finally finally, my favorite Facebook status update of the week, from my friend Ryan:
[My son] is two years old. he's watching my father-in-law and me fry perch and we are teaching him how. We are the Wisconsin equivalent of "Jersey Shores."
Oh, and I should mention – after the Packers lost to the Steelers, I sent an angry tweet to Greg Bedard at the Milwaukee Journal Sentinel, who had pointed out that Mason Crosby's missed field goal ended up being the difference. I generally dislike saying things like that, because had Crosby made it, the game would have played out completely differently – you can't just plug in his three points and say the game would have been identical. Anyway, I should institute a post-Packer loss cooling off period before I approach my computer. So my bad. (Not that anyone really cares.)