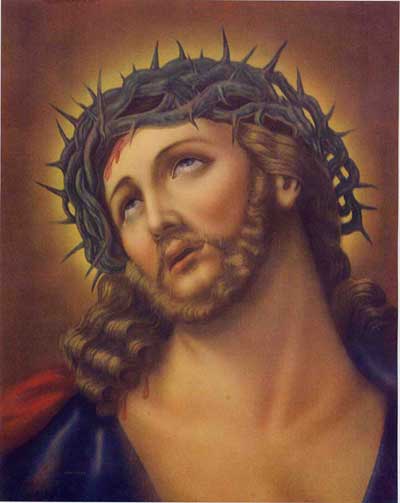 Madison – In an unprecedented legal maneuver, the Wisconsin Democracy Campaign today filed a complaint against Jesus H. Christ for his advocacy on behalf of his father, our Lord. "When Jesus goes around pushing the Lord as our savior, he needs to include the proper disclaimer," said noted idiot Mike McCabe. "We all know that deeply held religious views are what are corroding our state," said McCabe. As a result of the ruling, God will have to recall all of his campaign literature, commonly known as "The Bible."
Earlier this week, McCabe filed a complaint against the Madison Catholic diocese, which had the gall to urge their members to vote for the ban on gay marriage in Wisconsin. Coincidentally, that happens to be an official church teaching. Apparently immune to irony, McCabe's "nonpartisan" organization has urged voters to oppose the marriage ban, yet still refuses to disclose his donors. In fact, the only campaign that McCabe failed to influence was the democratic primary in which he actually ran as a candidate, and was beaten by a 4 to 1 margin.
When reached for comment, Christ said he opposes gay marriage, but in fairness, also opposes marriage between straight ugly people. "I'm being crucified for this. I mean, Jesus Christ, what's the big deal?" said the Son of God. The Lord has been locked in an eternal struggle with the Devil for universal supremacy that has recently turned ugly, with the introduction of a new Satanic television ad that criticizes God for being soft on tsunamis.
The complaint also alleges Christ failed to list his gift of eternal salvation to mankind as an in-kind contribution, when it is clearly valued at around $75. A judge sentenced Christ to 30 hours of community service, where he will help the poorest of Wisconsin's citizens by granting them more minutes on their monthly cell phone plans.
In a rare use of his omnipotence following the trial, Christ turned McCabe into a plate of potatoes au gratin, which instantly raised McCabe's IQ by 30 points. The Democracy Campaign also filed a motion prohibiting the Church from teaching the story of Jesus caring for the lepers, instead directing priests to refer to them as "partial Americans." The popular Judy Blume book "Are You There God?, It's Me, Margaret" will also be pulled from elementary school libraries, as it clearly constitutes issue advocacy.
In related news, 6 year old Simon Benjamin of New Glarus informed his mother that her instructions to clean up his room weren't valid, as she had not turned in the required paperwork.
Authorized and Paid for By Anyone With Any F-ing Common Sense