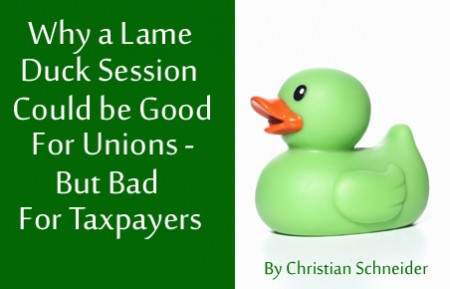 For the first time in ages, Wisconsin is going to have a new governor that did not rise to the state's top job from the ranks of state government. Yet the specter of one of the current candidates is already affecting how the current state government does business.
The polls may be close, but Milwaukee County Executive Scott Walker has held a consistent lead in the gubernatorial race against Milwaukee Mayor Tom Barrett. This fact is not lost on the elected officials and bureaucrats in Madison, who have been bracing state government for a win by the conservative Walker.
For instance, Walker has said that if elected, he would make it his mission to stop construction of a federally-funded $810 million rail line between Madison and Milwaukee. As a response, the Wisconsin Department of Transportation (DOT) reacted by shoveling as much money out the door as possible, to make it more difficult for a potential Governor Walker to stop its construction. According to the Milwaukee Journal Sentinel, $300 million will be committed to the project by the end of 2010, up from the $50 million previously estimated.
Other legislative actions attempted to buttress state government against Walker's potential victory. In its waning session days, the Wisconsin Legislature entertained proposals to extend the tenure of existing cabinet secretaries (making sure they stay in office well into Walker's first term), and further restricting the Wisconsin governor's veto authority – a move Democrats resisted during Jim Doyle's tenure.
And while the session has ended and legislators are strewn throughout the state trying to get themselves re-elected, legislative Democrats still have one large pre-emptive chip to play: state employee union contracts.
Every two years, the Legislature sets aside funds to pay for unionized state employee raises. For the 2010-11 fiscal years, $351 million was budgeted for this compensation reserve fund.
Once the money is set aside, the state Department of Employment Relations (DER) is charged with negotiating contracts with the state's 19 professional unions. Currently, all 19 units are actively negotiating with the state. Once agreement is reached with the state, each bargaining unit must go back to their members and ratify the contracts before they are voted on by the Legislature's Joint Committee on Employee Relations.
Normally, this is a fairly lengthy process. But with a new governor entering office in three months, this isn't a normal year.
Consider the fact that union-friendly Democrats hold control of the State Legislature all the way up until the new session begins on January 3rd of 2011 (the heads of both legislative houses are former labor leaders). Also, consider that former state senator and Democratic Party of Wisconsin chair Joe Wineke is the DER representative negotiating on the state's behalf. Wineke, currently the Administrator of the DER's Division of Compensation and Labor Relations, has a long history of supporting union-friendly legislation, including "card check" proposals that would allow greater intimidation of workers hesitant to unionize.
The calculus isn't difficult. There's a large pot of money waiting to be handed out to unionized state employees, and the process is controlled by the legislators most likely to reward those employees with pay raises. And with a fiscal conservative like Scott Walker poised to take control of the governorship, this might be their last chance to reap the largesse of the state's compensation fund.
If settlements are reached with the unions soon, it could only be a matter of weeks before the contracts are ratified and sent to the Legislature for approval. Democrats would have to bless the contracts during their lame duck session, which to this point would be unprecedented. But they're two years away from another election, and many of them will be leaving the chambers for good when the new session begins.
The unions themselves have noticed. On their website, the Wisconsin State Employees Union has specifically called for a legislative special session in November or December, so they can get Governor Doyle's signature on their contracts by January 1st:
"Our window of opportunity gets narrower if we decide to settle, we would want to gain legislative approval and the governor's signature before January 1, meaning we only have November and part of December to have a special session called for ratification."
What's stopping them?
-October 20, 2010