I just watched \No Crossover: The Trial of Allen Iverson," ESPN's outstanding "30 for 30" documentary. It's truly an example of what can happen when a network gives a great director the freedom to make the movie he wants. Iverson has always been one of my favorite players – if you can stomach the multiple arrests, he's one of the baddest men on the planet. I wish I was as good at my job as he was at his (and had as many neck tattoos in the process). Plus, I was living in Blacksburg, Virginia at the time of the bowling alley incident featured in the documentary – so I recall the controversy going on at the time.
But during his whole college and pro career, one question has always been nagging at me: Did I play against Allen Iverson?
A bit of an explanation of my limited basketball career is warranted here. I was always short and hopelessly skinny. When I graduated high school, I weighed maybe 135 pounds. (A television station in Ethiopia actually had a telethon for me.)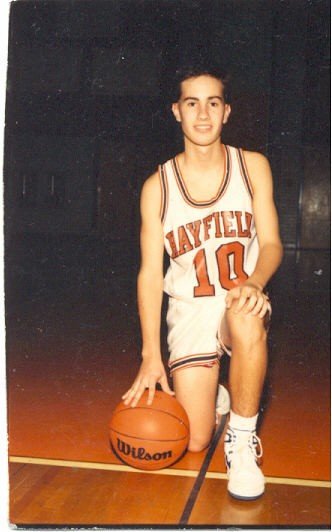 After playing ball my entire childhood, I was cut from my high school's freshman team. I was so angry, I signed up to play on a church league team where I vowed to take it out on the other kids that weren't good enough to make their freshman teams, either. My signature play was to bring the ball up and shoot it. When the other team caught on, I'd switch it up and let someone else bring the ball up and pass it to me. Then I'd shoot it.
As it turns out shooting was the one thing I could do. As my dad always told me, "there's always a spot on a team for a guy who can shoot." I spent almost every waking moment at the court by my house, heaving up one three pointer after another. I always envisioned whatever girl wasn't talking to me at the time sitting in the front row as I drained a long game winner. And since no girls ever talked to me, that amounted to about 1.3 million game winners in the span of four years. (Occasionally, I was joined in one-on-one games by a former Milwaukee prep star known as My Dad, whose rough old man play left me with loose front teeth more than once.)
My sophomore year, I made the junior varsity team, but rarely played. I was, as is known in the business, the "human victory cigar" – when I came into the game, it was likely already decided. But that didn\'t shake my confidence. I recall one time in practice, I dribbled the ball from end to end on a fast break and jacked up a three-pointer. My coach blew the whistle and chastised me for not letting the defense we were working on set up. "You'd have to be a hell of a player to take that shot, anyway,\" he yelled, sarcastically. Next time down the court, I stopped at the top of the three-point circle and heaved up another shot. "WHAT THE HELL ARE YOU DOING, SCHNEIDER?" he barked. "I just heard the part about you having to be a hell of a player to take that shot," I said. He smiled. And I still never played.
The competition in Northern Virginia at the time was pretty good. We played Grant Hill, who was starring at South Lakes high school (he's a year older than me.) Current ESPN analyst, North Carolina Tarheel and longtime NBA player Hubert Davis often played pickup games at a court near my house. The scene was sprinkled with other guys who went on to play Division I ball (we played some 6 foot 9 guy that went to Stanford, but I can't remember his name. Stanford probably can't, either.)
But it wasn't until a trip down to Virginia Beach after my sophomore year that my eyes were opened as to what competitive basketball really was. Old Dominion University has a team basketball camp every summer, where high school teams travel down together to the campus for a week of instruction. Most of the teams there were from the Hampton/Virginia Beach/Norfolk area, which is one of the most fertile athletic areas in the United States. Michael Vick is from there. Bruce Smith is from there. Lawrence Taylor. Alonzo Mourning (who set the state record for blocked shots against my school when I was in 8th grade.) Golfer Curtis Strange. (It's true. Meant to be funny, but still true.)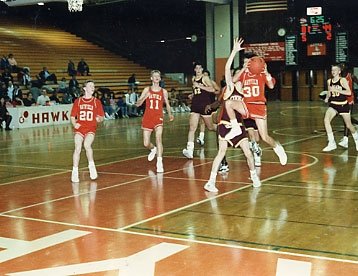 It should also be noted that of the twelve teams in attendance, there were five white guys – total – at the camp. And three of them were on our team. Now, I was certainly no newcomer to the racial realities of basketball. My school is currently 37% white and 26% African-American, due to a large number of middle class black military families that lived nearby. (I also have my school's racial makeup to thank for introducing me to Go-Go music, a unique D.C. style that gives the people more bongos than they can handle.)
At courts near my house, I was often the last one picked based almost exclusively on my skin hue. Our team had traveled into Washington, D.C. to play some of the schools in the city, where the stands featured exactly zero white faces. Our biggest rival, T.C. Williams High School (of "Remember the Titans" fame) had become a majority black school by 1990, with a large percentage of their students living in tough economic circumstances. When we played them, be actually had to be accompanied to the locker room by hired guards. (T.C. Williams also had to move their football games from Friday night to Saturday afternoon, as their fans occasionally got a little trigger happy during the night games.)
But once we stepped on the court with some of these teams that came from areas like Hampton and Norfolk, it was a completely different story. We weren't playing rich-boy Northern Virginia basketball anymore. We lost our first game by something like 80-20. By our third game, we ended up passing the ball back and forth for minutes at a time to avoid being completely blown out.
But then there was one game that I can't forget. I was guarding a point guard who was probably my height at the time (about 5 foot 7). He had a bandage wrapped around his shooting hand. At one point in the game, he dribbled the ball up and passed it off. I felt a screen hit me from behind. When I wheeled my head around to look at where he should have gone, he wasn't there. He had completely disappeared. A fraction of a second later, I turned all the way around and looked at the rim. I saw his bandaged hand six inches over the rim, catching an alley-oop and dunking it. I must have stood there, stunned, for what felt like 10 minutes. I\'ve never seen anything like it before or since. It was a world-class athletic move from a guy not old enough to drive a car.
It was only a few years later that it occurred to me that it's possible I was playing against a future NBA hall of famer that day. (And it wasn't future Milwaukee Buck Joe Smith, who was there with his Maury High School team.) After all, almost all the teams there were from Iverson's area. On the negative side – I'm 3 years older than The Answer, so if it was him, he was 13 or 14 years old at the time – which makes the athletic feat I witnessed even more implausible.
The real answer is that I'll never know if I played against Allen Iverson. Maybe he was at the camp but on a different team altogether. Maybe he was back in Hampton, playing on an asphalt court. But I have to admit, I kind of like not knowing whether he was there. So at least I know there was at least a chance.
Incidentally, our team actually went on to the state tournament the next season. I even managed to get into a game, get fouled a few times, hit 5 of 6 free throws, and get mentioned in the Washington Post. So we were actually a good team – just not Virginia Beach good.
(SIDE NOTE: Rather than actually going on dates and stuff, my friends and I spent an inordinate amount of time filming ourselves dunking on a hoop outside my friend Dennis' house. Please, come bask in the awkwardness with me:)