Disclaimer: This column contains some language of the salty variety.  The high standards of the internet compel me to warn you of this.  But I gotta keep it real. And if you want to send me a "hate tweet," you can do so at @Schneider_CM.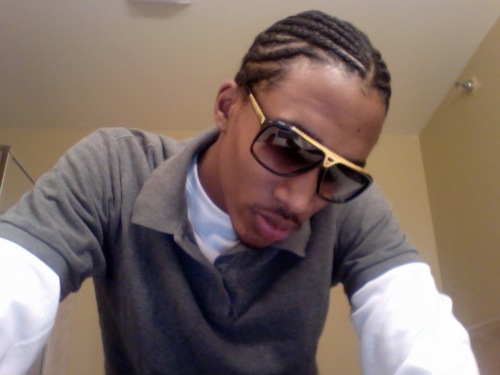 Let me be clear – my love of Brandon Jennings takes a back seat to no man.  After his sixth game, I urged him to file a restraining order against me.  After his 55 point explosion in his very next game, I offered to have his baby (or at the very least, go snatch someone else's for him.)  As a Bucks fan, I feel like I'm six years old and I've just been given a Zhu Zhu pet – only a braided, tattooed one from Compton.*
Perhaps what has impressed me the most is the maturity he\'s shown in his public statements to date.  In his interviews, he seems very calm, cool, and thoughtful.  Even after he blew up and hit the national stage, he handled himself with class.
So it pains me to say the following:
If you see Brandon Jennings tweeting on his Blackberry, immediately wrestle it from him and throw it in Lake Michigan.
Trust me, I am certainly no puritan.  I happen to think Tiger Woods' biggest mistake was the horrific spelling and punctuation he used in the text messages he sent his hoochies.  (You went to STANFORD, Tiger… COME ON!)  Many of my writings in the past have delved into the world of the ribald, including this piece that seems to make people laugh upon reading it. (It's a story about how the Milwaukee police spent a full day staking out the turmoil in my pants.)
But let's follow the recent Mark Twain-like wit and wisdom of Brandon Jennings last week, via Twitter.  He started off with this erudite reflection on race relations, specifically with regard to the types of women he dates:
Imma change my race of women I mess with.

I like white girls, light skin, asian girls, thai girls, now.

Man Jo I like all type. Of women. God made beautiful women
These posts were quickly revoked, and followed with this explanation:
(true story) all my life I only dated black girls. Nothing against any other race. I love that black women are Strong!
Then came these ruminations on the travails of Tiger Woods:
#Womenshouldnever get mad when a man cheat! Tiger did it!!!!
Followed by this re-tweet of a young gentleman who goes by the handle "ComptonAssDeezy," who apparently likes to treat his women to the finer things:
 RT smh. Smh!!! @ComptonAssDeezy: #womenshouldnever not give head, and then get mad when her man cheat. you better get with the times bitch!
Let's stop there for a moment.
These are the thoughts of a 20 year old male.  I was 20 once.  And the world should be thankful I didn't have the ability to tweet my innermost thoughts.  (96% of them would have involved Nirvana, whether I could borrow your fake ID, and how amazing it was that my college roommate was able to put a picture of a naked woman on his computer.  ON HIS COMPUTER!)  I have been in and around enough locker rooms to know the things that are discussed –  I am certainly no Pollyanna in this respect.
But I think back to my sports heroes of yore.  Do I feel like I missed anything because I didn't know Robin Yount's position on whether a lack of oral sex gives a man a right to cheat on his ladies?  Not really.  Do I stay awake at night wondering if Sidney Moncrief craved the sweet caress of Asian women?  Only occasionally.
When used properly, Twitter can be a pretty cool tool.  And I'm all for athletes breaking free from the traditional media to let the fans know more about themselves.  Even Jennings himself gives us a glimpse into his psyche in tweets that I love, like this one, posted after Kentucky knocked off Connecticut last Wednesday:
John wall better then me??? Just asking that's what I been hearing.
That's my boy – John Wall isn't better than you!  Get yours, Brandon!  Or this one:
Give me #RIHANNA for a Day! I know what she wants for Xmas.
Yes!  I agree!  I want Rihanna for a day, too!  (Especially after her duet with Shy Ronnie.)
(Side note: This is the big difference between Brandon Jennings, and, say, me.  If he tweets that he wants a date with Rihanna, there's actually a 73% chance he will get to go on a date with Rihanna.  I'm guessing that I might be somewhat more of a longshot.  As far as I can tell, this is really the only difference between me and Brandon Jennings.)
He even tweeted about meeting President Obama, saying:
Oh yea forgot to till yall I was at the white house, chillin with Obama. He actually know who I am. That's crazy.
See, that's awesome.  But for the love of God, some of it is just too much information.  And someday, it's going to get him suspended.  So then, it doesn't just become Young Money's problem, it becomes my problem.  He's compromising the team that I love.
Of course, thinking I was clever, I tweeted my line about throwing his Blackberry in the lake – and immediately started to get hate tweets.  (Is there anything that sounds less threatening than a "hate tweet?" It sounds about as threatening as a "nuclear booty," which was once the name of one of my fantasy football teams.  Anyway.)
The responses to my tweet, with varying degrees of punctuation and understandability, broke down among these lines:
1. YOU MY NI**A, BRANDON
2. Don't let the haters get you down, B!  You be you!
3. The twitter police gonna get you!
(#1 was actually from my wife, so I'm not sure it counts.)
And believe it or not, there was actually a semi-lucid appeal to the First Amendment somewhere in Jennings' defense.  (83% of Jennings' twitter followers likely think the First Amendment is a Hardee's menu item.)
So, according to Jennings' followers, I am now "cranky old white guy with nothing better to do." But let me be clear: NBA players can say whatever they want.  Andrew Bogut, for example, does some cool stuff on Twitter.  But just because you CAN say something doesn't mean you SHOULD say it.  As Chris Rock once said, you CAN drive a car with your feet, but it doesn't mean it should be done.
For Christmas, my 4-year old son wants a little Brandon Jennings jersey.  He's going to get one.  Let's just hope it doesn't still fit him when I have to explain what "bitches giving head" means, courtesy of Jennings' Twitter feed.
(Somewhat-related side note: Yesterday, my 6-year old daughter finally asked me what Tiger Woods did wrong.  After panicking and mumbling to myself, I finally told her that he "hugged too many ladies."  And by "hugged," I mean "gave mustache rides to.")
Now that I think of it, I'm kind of happy tweeting wasn't available to Milwaukee sports figures in years past.  You'd see stuff like this:
Molly4: Boy, coke is a lot better when snorted off the rear end of a 15 year old!  LMAO!
LHarrisGMBucks: I just ordered out for General Tso's chicken and accidentally ended up with a Chinese forward! Who says he won't play here!  FML!
TheHammer44: Can't believe I hit #755 today! Never be beat! Boy, nothing grows those muscles like milk and pumpkin pie!
HDaltonBrewGM: Just took Surhoff with the first pick!  Glad I took him over losers like Will Clark, Barry Larkin, and Barry Bonds!
JonnyMac14: OMG! Alcindor just let me scrub his shoes for him with a toothbrush! I bet I'll still be talking about this 40 years from now! On color TV!
Chooey89: Anyone know a good hot tub cleaner?
FrankenBreuer45: Holy crap, did Jordan dunk on me tonight! I sure hope nobody invents a device where, 22 years from now, people can watch me get dunked on over and over! FML!
Other Observations:
Luke Ridnour is playing lights out for the Bucks this year, and I'm pretty sure I know why.  It was just too much work for him to quarterback the Dillon Panthers to three straight Texas high school football championship games, and play point guard in the NBA at the same time.  Now that he's left Julie and only has to go to art school in Chicago during the day, it's freed up his shooting practice time.
Now that Michael Redd is back, the Bucks have lefthanders at both guard positions.  Someone call Elias to find out how often NBA teams start two lefties.  Bet not often.
On Bucks broadcasts, when they do the "guess who the first Buck to score in the fourth quarter will be," game, how lame is it when people pick a guy on the bench?  Seriously, people – watch a game or two and learn the rotation.  A lot of the starters begin the 4th quarter riding the pine – adjust accordingly.  I'm shocked nobody to date has picked "Glenn Robinson."
Speaking of lame – first Indiana steals Marquette's coach.  Then they start doing the giant heads on sticks routine behind the baskets.  Are they going to airlift the Bradley Center down to Bloomington next?  Photoshop all the college pictures of Dwyane Wade so people think he actually went to Indiana?  They should all be ashamed of themselves. (Come to think of it, they are welcome to take Jeronne Maymon's dad, if they want him.)
* – For the people of the future, Zhu Zhu pets are poorly made plastic hamsters that have become the "hot Christmas toy" of 2009.  I have spent hours of my life staking out the Toys R Us near my house trying to get my hands on these things.  I will now go drink gasoline.
UPDATE: This post made me look prescient, as Jennings was fined $7,500 by the NBA on Friday for an innocuous tweet that he apparently posted too close to the finish of the game.  I happen to think this fine is BS.