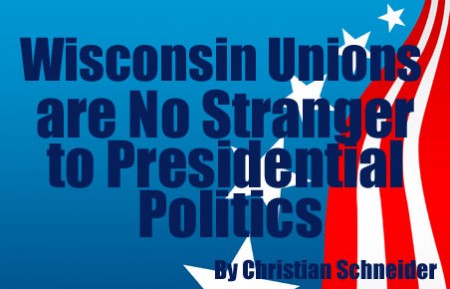 Last Tuesday night, shortly before Tom Barrett strode to the stage to accept his party's nomination to take on Scott Walker in Wisconsin's June recall election, Barrett received a big atta-boy from the White House. In a statement, President Obama announced he was "proud to stand with Tom Barrett," because the Milwaukee mayor would "move Wisconsin forward."
It wasn't the first time Obama had involved himself in the Wisconsin imbroglio over public sector collective bargaining. At the outset of the Madison protests last year, he called Walker's proposal an "assault" on government workers. As a presidential candidate, Obama vowed to "put on a comfortable pair of shoes" and "walk on that picket line" to preserve the "right" to collectively bargain.
Obama's interest in Wisconsin is easily explainable; a Barrett victory would aid the president's prospects in the state immeasurably come November. Wisconsin is one of a handful of states that will determine the presidency in 2012; if Walker is seen as vindicated, it could demoralize the state's Democrats. For this reason, many see the recall as a precursor to the presidential election; in many ways, November could be Wisconsin writ large.
Of course, the current recall effort is unprecedented. But this isn't the first time the issue of public sector collective bargaining in Wisconsin was inextricably intertwined with a seminal presidential election.
In September of 1959, telegenic young U.S. senator John F. Kennedy made the third of what would be many trips to Wisconsin to build support for his eventual run for the presidency in 1960. Wisconsin was the first primary in the nation, so Kennedy needed to win the state to show he was a serious player on the national scene.
On September 25th, Kennedy's plane landed at Truax field in Madison; he was greeted by newly-minted governor Gaylord Nelson, Madison mayor Ivan Nestingen and state Democratic Party chair Patrick Lucey. They immediately shuffled Kennedy off to a meeting with 40 state labor leaders at Madison's Park hotel.
Kennedy's relationship with labor was tenuous, at best. He had served on the famous Senate Select Committee on Improper Activities in Labor and Management, which investigated the rampant corruption of Teamster's president Jimmy Hoffa and his predecessor, David Beck. Kennedy's brother, Robert, served as the chief counsel for the committee, and was widely regarded as an aggressive prosecutor of union misdeeds. (Robert Kennedy later documented his experience uncovering widespread union corruption in his book The Enemy Within.)
Inspired by his work on the committee tasked with exposing union corruption, John F. Kennedy introduced legislation that reformed union financial and reporting structures. In 1959, the Kennedy-Ervin union bill was merged with a much stricter President Eisenhower-endorsed Republican House version (the "Landrum-Griffin" bill), and became law.
Yet unions believed the final bill too closely resembled the original Republican version, and held Kennedy's support of the final bill against him. At the September meeting in Madison, organized labor leaders excoriated Kennedy for voting in favor of Landrum-Griffin.
Madison Federation of Labor president Marvin Brickson asked Kennedy why he supported legislation that was "detrimental to labor unions." Kennedy answered that Landrum-Griffin actually helped unions, as it would have prevented the corruption that had sullied the name of organized labor. (Hoffa had been creating so-called "paper unions" with phony members, which he then used to gain more control of the Teamsters.)
Harold Rohr, president of the Madison City Council and a representative of Painters Local 802, told Kennedy that the bill made "second class citizens" of honest workers. "The rank and file of labor people didn't want to be harassed by this type of legislation," Rohr protested.
Michael McMahan, business agent for the construction workers' union, complained that the legislation unfairly targeted building trades. "I'll say it as bluntly as I can," Kennedy responded. "The building trades came out pretty well in this bill." Kennedy then asked McMahan what he would suggest should be done. "I suggest you leave labor alone," McMahan shot back.
That very day, in a show of solidarity with organized labor, Governor Nelson approved the nation's first law allowing local employees to unionize. The 1958 election of Nelson, only the second Democrat elected in Wisconsin in the 20th century, made all the difference for labor unions.
Due to the Progressives' takeover of the state Republican Party in the early 20th century, elected Democrats in Wisconsin were scarce. By 1958, it had been 26 years since a Democrat had won the Wisconsin governorship.
Democrats had been in the minority in the state senate and assembly since 1893. For four straight legislative sessions (1923–1929), there were no Democrats in the Senate.
Yet in the 1950s, Democrats began to emerge as a serious party in Wisconsin, in large part due to the money they raised from labor unions. When Democrat William Proxmire ran for governor in 1954, 55 percent of the money he raised was from organized labor. Labor also offered Democrats vote mobilization, phone banks, Election Day transportation, and independent expenditures. In The History of Wisconsin Vol. 6, author William F. Thompson speculated that "the triumph of the Democratic party in the late 1950's would have been difficult, perhaps impossible, without these various contributions of the unions." Republicans still outspent Democrats two to one, but organized labor was able to close the gap considerably.
Republicans, sensing the threat, in 1955 passed the Caitlin Act, which prohibited labor unions from contributing to political parties, committees, or candidates for state or local office. After passage of the act, union donations to Democrats plummeted.
But Democrats quickly adapted, and soon the state stopped enforcing the Caitlin Act altogether. In Nelson's successful gubernatorial race in 1958, 21.7 percent of his money was raised from labor.
Shortly after Nelson took office came the law allowing collective bargaining for state and municipal employees. Soon, government unions flourished — and so did Democratic fundraising. Thanks to contributions by organized labor, a Democratic Party debt of $10,000 after Nelson's election was turned into a $50,000 surplus by 1963. Soon, Democrats became the dominant political party in Wisconsin.
But while Nelson was pushing ahead for the unions, organized labor remained skeptical of Kennedy. Many Democrats thought Kennedy was simply trying to buy a Wisconsin primary win, although he and his competitor, Minnesota senator Hubert Humphrey, both spent about $150,000 in the election. Humphrey, who was an expert in labor politics, and who at one point in the campaign joined a union picket line and sang "Solidarity Forever," despised the wealthy "Kennedy machine." At one point, Humphrey likened himself to a "corner grocer running against a chain store."
On election night, Kennedy got the Wisconsin win he needed; albeit by a slim 56 percent majority. Kennedy won six of the state's ten congressional districts; the overwhelming majority of his votes came from the four most Catholic of those districts. Humphrey took the results as good news and stayed in the race to fight on in West Virginia; later, Stuart Symington, Lyndon Johnson, and Adlai Stevenson would all join in the Democratic primary to unsuccessfully thwart Kennedy's ambition.
Had Wisconsin labor not been so skeptical of Kennedy, it is possible he could have cruised to his party's nomination, and avoided the convention fight he would eventually face. In the general election, Kennedy would go on to lose Wisconsin by four percentage points to Richard Nixon, although, of course, he would win the presidency.
So while it may seem like Wisconsin is swimming in unchartered waters, it isn't the first time union angst in the state has altered a presidential election. Only this time, Democrats have to hope a Walker win doesn't erase some of the pages of their blueprint.
-May 14, 2012