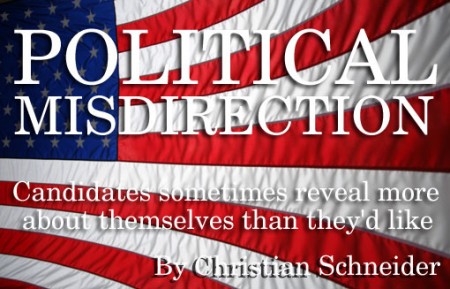 An old Democratic campaign manager once revealed to me the key to successful public relations: "The more liberal your candidate, the bigger the American flag has to be on his bumper."
It's a simple illustration of how candidates are free to write their own narrative, no matter the facts. As George Armstrong Custer once said, his goal was "to make my narrative as truthful as possible." Candidates are free to accentuate the things that make them look good, even if doing so provides a window into what they really think.
For instance, Republican U.S. Senate candidate Eric Hovde began his campaign this year by emphasizing his ties to Wisconsin. In one of his early TV ads, he proudly announces that he was born in the state and attended the University of Wisconsin-Madison. Surely, any candidate wants to show voters he's one of them, but Hovde has a special challenge: He hasn't actually lived in Wisconsin in a quarter of a century. Hovde's job as a hedge fund manager took him to Washington, D.C.; consequently, he's ready to don a cheesehead, paint his chest green and gold, and change his two daughters' names to "Harley" and "Davidson."
Certainly this isn't dishonest, but it's clearly an attempt to make Hovde's "narrative as truthful as possible." Messaging misdirection is as endemic to politics as noodles are to lasagna. They go together like "beef" and "stroganoff" or "cole" and "slaw." (Side note: Is there any other kind of slaw? Can we drop the "cole," or is there a "Citizens for Cole" interest group out there keeping it alive?)
On May 17, the state Department of Workforce Development issued a press release announcing new statewide jobs numbers. The new Bureau of Labor Statistics numbers were of particular interest, as the gubernatorial recall candidates were sparring over different sets of employment numbers. Gov. Scott Walker's numbers showed the state was gaining jobs, while Milwaukee Mayor Tom Barrett relied on a BLS report indicating that Wisconsin was last in the nation in job creation over the past year.
The headline of the DWD release said it all: "Wisconsin April unemployment rate declines to 6.7 percent." I read it and immediately thought: "Oh, no, the state lost jobs." Because if the state had gained jobs, that would have been the headline. When the BLS numbers show the state losing jobs, the unemployment rate is the last refuge for a positive headline. Sure enough, there in the last paragraph, on the second page, was the number: The BLS estimated a loss of 6,800 in the previous month.
Barrett himself wasn't above shifting the topic. In fact, the whole recall election was a change in subject, as Barrett was loathe to mention public-sector collective bargaining even though it was the overwhelming reason why the recall petition got traction in the first place.
At one point, Barrett issued a memo showing his campaign "gaining momentum" in the polls. Translation: "I am losing this race."
Regular people understand how ridiculous some efforts to control the narrative can be. Imagine your spouse joyously telling you that you can spend more time together… because Ryan Braun just got eaten by a leopard that ran out on the baseball field. Or picture your wife telling you the "great news" that you can finally go buy that Harley-Davidson that you always wanted… because she's moving to Sweden with Sven, her personal trainer.
This isn't simply reading between the lines — it's reading outside the lines. So watch political ads very closely; generally, candidates will emphasize an area where they feel weakest. By trying to tell you nothing, they will often tell you everything.