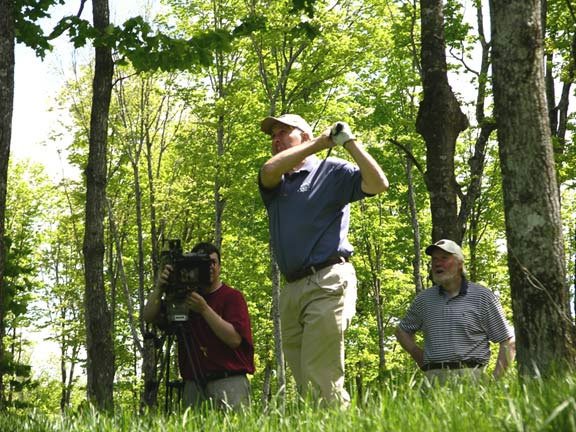 While you were at home on your couch watching the Masters golf tournament on television between naps, your Governor was actually there watching it first-hand. Apparently, Doyle was looking for the answer to Wisconsin's skyrocketing unemployment rate somewhere off the fairway on the 13th. (He swears it went just left of that pine tree, but can't seem to find it.)
Steve Walters at the Milwaukee Journal-Sentinel had the nerve to ask the Governor how he paid to get down to Augusta for the event.  Doyle's press secretary steadfastly insisted that no taxpayer money was used to get the governor to Georgia – only campaign funds had been used.
Which would be fine, if state law considered flying to the Masters golf tournament an acceptable disbursement of campaign funds.  In fact, it does not.  
According to the State Elections Division of the Government Accountability Board:
Wisconsin law restricts the use of campaign funds. Money in a candidate's campaign account may be spent for political purposes only. The State Elections Board has not expanded on the definition of political purpose with specific examples in the form of an administrative rule. The candidate is responsible for ensuring that campaign finances are spent for political purposes and not for personal or governmental purposes.
Without this restriction, campaign funds could just be used for whatever current or ex-candidates wanted to – like buying big screen televisions, cars, or trips to see the Masters.  Of course, Doyle has said that his trip down to Augusta was for a phony concurrent Democratic Governors Association meeting, which would make it for a "political purpose." 
Right.
 I'd LOVE to see all the official "political" business they took care of while drinking beers and watching the golf tournament at the Augusta National Golf Club.  In fact, through multiple secret sources, I was actually able to secure a copy of the minutes of the Democratic Governors Association meeting from Augusta last week:
THE DEMOCRATIC GOVERNORS ASSOCIATION MEETING OF THURSDAY, APRIL 9, 2009

11:08 AM – KANSAS GOVERNOR KATHLEEN SEBELIUS calls the meeting to order and takes roll.

11:10 – PENNSYLVANIA GOVERNOR ED RENDELL makes a motion to "hurry this sh** up."  Motion passes.

11:11 – OHIO GOVERNOR TED STRICKLAND made a motion declaring "Monsters Versus Aliens" in 3-D the "awesomest thrill ride" of the summer.  Motion passed.

11:13 – NEW YORK GOVERNOR DAVID PATERSON showed up late, complaining that the guards at the front gate wouldn't let him in.  Awkward silence ensues, as governors realize Paterson doesn't know that he's black.

11:14 – WISCONSIN GOVERNOR JIM DOYLE thinks they should take moment to recognize the tough economy and all the sacrifices working families are having to make while unemployment skyrockets.  He then screams "there's too much orange juice in this mimosa!" and slams his glass on a country club servant boy's head.

11:15 – VIRGINIA GOVERNOR TIM KAINE notices that the bowl of peanuts is getting low; immediately calls the White House, asking for more stimulus funds to get some more damn peanuts.

11:16 – NEW JERSEY GOVERNOR JON CORZINE announces he can't wait for Rod Stewart Week this year on American Idol.  Motion passes, although strangely, no motion was made.

11:17 – MARYLAND GOVERNOR MARTIN O'MALLEY, fresh off his third keg stand, declares to MICHIGAN GOVERNOR JENNIFER GRANHOLM that the alphabet would be "a lot hotter if they put 'U' and 'I' together."

11:18 – MEETING ADJOURNED.

11:19 – Wisconsin loses 300 jobs to a state that's 70% underwater while its Democratic governor enjoys the Masters' Tournament with legally questionable campaign funds.
Fortunately for Doyle, it was this meeting that made it okay for him to use his campaign funds for a personal purpose.  Unfortunately, the working people of Wisconsin don't have campaign funds that allow them to fly away to phony conferences for the week.
Imagine my wife's surprise when I tell her that the next meeting of the "Wisconsin Think Tank Blogger's Association" will be held at the Miss Hawaiian Tropic Pageant in Daytona Beach.  There, I can raise a styrofoam cup of beer to the poor people left jobless by the recession.